A free Thunderbird backup utility.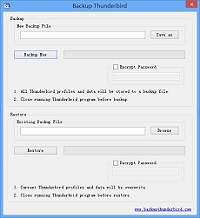 About
Backup Thunderbird is a free Thunderbird backup utility for Windows, it can help you to quickly backup and restore all of your Mozilla Thunderbird E-Mail Messages, Newgroups, RSS Feeds, Address Books, E-Mail Accounts and all other options.
Only several mouse clicks, no need any professional knowledge, you can easily backup your E-mail client data. If you are a Thunderbird user under Windows OS, this will be your software.
Download

How to Backup
All Thunderbird E-Mail client profiles and data will be stored to a backup file. You need select a new backup filename using button "Save As", then click button "Backup Now" to start. Please note that you need close running Thunderbrid program before backup.
How to Restore
In the "Resotre" groupbox, select a existing backup file, then click button "Restore". All current Thunderbird profiles and data will be overwritten, and you need to close running Thunderbrid program before restore.
Encryption
In order to facilitate you to protect your E-Mail messages and all other personal information, this software provides encryption function, before you backup, you can set up an encrypt password, then the resulting backup file will be encrypted.
Accordingly, for the encrypted backup files, when you restore it, you need to provide the correct password.